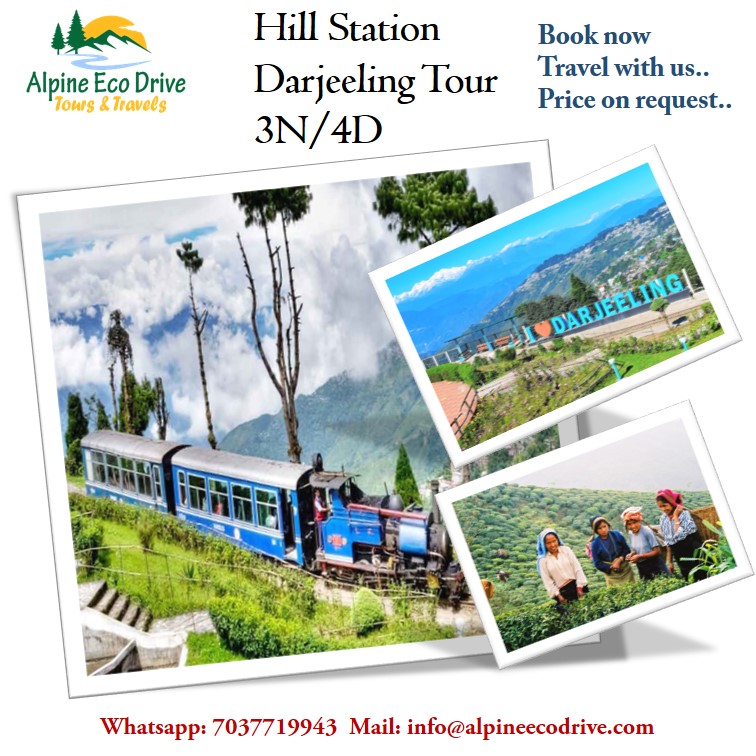 "Darjeeling, where every sunrise paints the sky in hues of gold, and the mountains sing a symphony of tranquility."
Alpine Eco Drive Tours & Travels
Hill Station Darjeeling Tour
Embark on an extraordinary journey with Alpine Eco Drive Tours & Travels and explore the mesmerizing hill station of Darjeeling. Our carefully crafted Darjeeling Tour offers an immersive experience amidst the breathtaking landscapes, tea gardens, and cultural heritage of this enchanting destination. Get ready to create unforgettable memories with us. Here's what our tour includes:
Begin your adventure by witnessing the magnificent sunrise at Tiger Hill. As the first rays of the sun paint the sky with vibrant hues, experience the awe-inspiring view of the Kanchenjunga, the third-highest peak in the world. Capture the breathtaking moments that will stay with you forever.
Embark on a nostalgic journey aboard the UNESCO World Heritage-listed Darjeeling Himalayan Railway. Enjoy a scenic joy ride on the toy train, winding through picturesque landscapes, lush green tea gardens, and quaint villages. Experience the charm of this iconic narrow-gauge railway.
Delve into the world of tea gardens with a visit to the renowned tea estates. Immerse yourself in the aromatic ambiance, witness the tea-plucking process, and savor a cup of authentic Darjeeling tea. Learn about the history, cultivation, and nuances of tea production in this region.
Discover the spiritual side by visiting the serene monasteries that dot the landscape. Explore the iconic Ghoom Monastery, known for its grandeur and sacred artifacts. Experience the tranquility, offer prayers, and learn about the rich Buddhist culture and traditions.
Visit the Batasia Loop, a spiral railway loop that offers panoramic views and the surrounding mountains. Pay homage to the brave soldiers at the War Memorial, a tribute to the Gorkha soldiers who sacrificed their lives for the nation. Capture the breathtaking vistas and embrace the patriotic spirit.
At Alpine Eco Drive Tours & Travels, we prioritize your comfort and ensure a seamless travel experience. Our knowledgeable guides will provide insights into the local culture, traditions, and hidden gems of Darjeeling. Join us to explore the magical landscapes, experience the warm hospitality, and create cherished memories in the lap of the Himalayas.
Trip Duration: 3N/4D
Book Now Travel With Us To Darjeeling.
Price On Request.
Call/Message: 7037719943
E-Mail: info@alpineecodrive.com