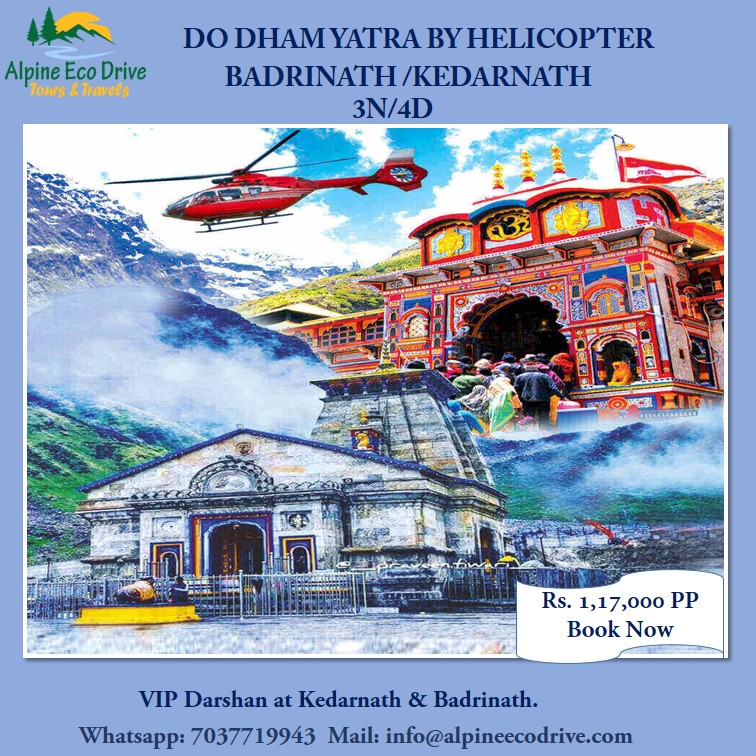 DO DHAM YATRA BY HELICOPTER BADRINATH/KEDARNATH
"The journey to Badrinath and Kedarnath is not merely a physical one; it is a spiritual odyssey that touches the depths of your soul and leaves an indelible mark on your being"
Alpine Eco Drive Tours & Travels
DO DHAM YATRA BY HELICOPTER BADRINATH/KEDARNATH
VIP Darshan at Kedarnath & Badrinath.
Trip Duration: 3N/4D
Rs. 1,17,000 PP Book Now
WhatsApp:
7037719943
Mail: info@alpineecodrive.com
Badrinath and Kedarnath are two significant pilgrimage destinations located in the Indian state of Uttarakhand. Both these sacred sites hold immense religious and spiritual importance for Hindus.
Badrinath is situated in the Chamoli district of Uttarakhand. It is nestled in the Garhwal Himalayas and is part of the Char Dham Yatra, which includes the four holy sites of Yamunotri, Gangotri, Kedarnath, and Badrinath. Badrinath is dedicated to Lord Vishnu and is considered one of the 108 Divya Desams, sacred Vishnu temples mentioned in Hindu scriptures.
Kedarnath is located in the Rudraprayag district of Uttarakhand and is also one of the Char Dham Yatra destinations. The temple is dedicated to Lord Shiva and is considered one of the twelve Jyotirlingas, the holiest abodes of Lord Shiva.
Both Badrinath and Kedarnath hold immense significance in Hindu mythology and are believed to be the abodes of deities that bestow blessings and liberation to devotees. The pilgrimage to these holy sites is considered a sacred journey, offering devotees an opportunity to seek spiritual solace, perform religious rituals, and experience a deep connection with the divine.